Our News
2013
Chillax
Friday 22nd November saw a SIAS team brave the cold and hit the streets of Solihull giving out information about services and harm reduction advice to local revellers.
Nearly 100 individuals engaged with the team and numerous pubs and clubs were visited with the team delivering the message of 'Chillax' and be safe!
The group was made up of a true partnership including Charlotte and 3 young volunteers from Moo Moo Youth marketing,staff from the Bridge and Welcome and of course our very own volunteer and project manager Barry!
A big thank you goes out to all those involved and I'm sure this event will pave the way forward for further SIAS events within the town centre.
Please see attachments for some photos of the event.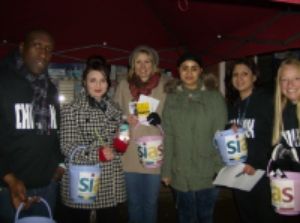 Charity Street Collection
On Saturday 18th October a number of staff stood with our charity collecting tins in Knowle Town centre, Solihull. Once again we were blessed by good weather and the people of Solihull were very supportive. We raised just over £150 which we intend to use for a young persons gardening project.We also managed to talk to a number of people and raise awareness of the issues and services available for substance misuse in the Borough.
Sustain Together Walk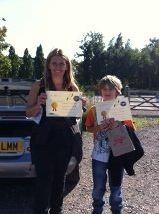 Staff and their families enjoyed the Solihull together sponsered walk again this year. The weather was beautiful and the route at Blythe Valley was as pretty as a picture. Kiran Khan Marketing lead made a new friend (Horse picture!!) and Jo Mackinnon CEO and her 10 year old son Max proudly held up their certificates at the end of the walk.Money from the work will go towards a small worthwhile project.
Sky Dive
Welcome would like to thank the VERY BRAVE individuals who threw themselves out of an aeroplane on (Date) in order to raise money for the Charity. Darren, Louise, Selina and Gina all managed to get down to earth safely to the applause and loud praise of spectators, including Jo Mackinnon the CEO and Fundraiser David Wootten who kept their feet firmly on the ground!!
Recovery Walk 2013
The 5th UK recovery Walk took place in Birmingham yesterday, 22nd September 2013 in Calthorpe Park.
This walk is for people celebrating recovery as well as those who have started their journey into recovery. People traveled from all around the UK to participate in this event.
Entertainment on the day included performances from the Well Being Choir and many others who joined the line up to share their road to recovery experiences.
Our SIAS partner, Changes UK served tea, coffee and smoothies on the day, which they had stock donated from retailers such as Co-operative and Tesco.
The park was filled with a great atmosphere and overall was a lovely day.
Next years Recovery Walk is looking as if it will take place in Manchester, so if you missed out this year, make sure you get involved next year.
Service User Celebration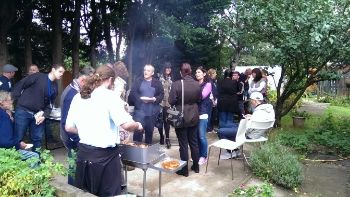 On Thursday 12th September, Welcome held a service user celebration in the garden.
It was a great success with over 50 attendees. The celebration enabled users to talk to one another over a BBQ. There was also some music and we were fortunate to have great weather on the day.
A number of people signed up to become involved in the production of the service user newsletter, so hopefully this event will serve as a springboard to greater service user involvement within SIAS in the future.
The next forum is on October 1st at 12.30 at Welcome.
Our 1st Birthday!
On the 1st September 2013 we celebrated the 1st Birthday of our Charity Shop in Shard End.
Watch out for the launch our next exciting project in Shard End, we will be opening our Community Cafe and Centre before Christmas 2013.
Fundraising Success on our Fun Day
We would just like to say a huge Thank You to everyone who supported our funday and for making it the success it was. Here are a few pictures from the day- fun on our bouncy castle, face painting, Hook-a-Duck and our special guests Mickey and Minnie.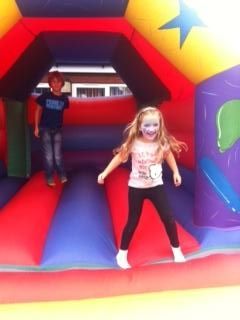 Welcome Fun Day!!
Come and support Welcome on Saturday 24th August 2013 between 11am-4pm in our fundraising fun day. We shall activities such as bouncy castle, hook a duck, face painting, nail art and henna with a BBQ, sweets, cakes and other light refreshments and a raffle with great prizes.
Also you will able to obtain information about our services and how the money raised can help us develop and expand our services.
See you there!
Fundraising Success for Hep C Trust!
A number of staff gathered at Coombe Abbey Park in Coventry to participate in a walk and BBQ which successfully managed to raise a £150 for Hep C Trust.
This was raised in memory of a member of our user service group Colin, who passed away in 2012.
Colin's family also attended the event and overall was a wonderful and enjoyable day.
Refurbishment starts on the new Welcome Cafe!
Work is already underway on refurbishing the old community center to make way for the New Welcome Cafe!
Major refurbishment work has been given the go ahead to the old Community Center next to AllSaints Church on Ownall Road, Shard End.
The center will offer a range of different services to people in the area including a new community space and cafe.
IOD Annual Prize: Director of the Year
The inaugural Institute of Directors (IoD) Annual Prize: West Midlands Director of the Year Awards Highly Commended Welcome Trustee Ann Rivera, Organisational Development Director for the Trident Social Investment Group
Ann's first class OD strategy recognised by numerous sector awards encompasses IT, Customer Service, Health and Safety and HR, as well as learning and development.Director of the IOD West Midlands and Chair of the Judges, John Phillips, said: 'The quality of entrants for our awards improves every year and this year's entries were all of an extremely high standard. The shortlisted entries clearly demonstrated how those individuals have all the attributes that leaders in their field should have.
Ann Rivera, who is also the Organisational Development Director of Trident Social Investment Group said: 'I am absolutely delighted to win this prestigious award and feel so proud to be Highly Commended in the West Midlands Director of the Year Awards. I would like to thank my colleagues and staff; without their support and commitment to Trident's Social Investment agenda, I would not have been able to deliver such an ambitious change management programme. This award symbolises to me that achievement is impossible without dedication.'
ST Georges Day in Shard End
Shop team and volunteers ran a book stall in the square and sold 27 bags of books to the local community. The shop display was changed to reflect St Georges Day images.
SUNNY SIDE UP!
Colin (Formally known as Bubble until we discovered she was in fact a he and a cockerel!) and squeak have been quite busy in the garden. These eggs will now go into the Welcome drop in center kitchen, to assist in provision of meals.
The garden project is back up and running on:
Fridays 10am - 1pm
Saturdays 10am - 1pm.
If you are interested in chicken care, growing fruit vegetables and flowers then pop along and ask for Mark Wilson from the Service User Group who has kindly agreed to lead this project for us.
2012
Christmas Cheer
Sound Foundation Voices brought a touch of Christmas cheer to Touchwood shopping centre in Solihull on Sunday 9th December, singing carols and other seasonal songs outside Santa's grotto to raise money for Welcome.
Chief Executive Joanne Mackinnon was also on hand to speak to Christmas shoppers interested in finding out more about the work Welcome does. "We had a great response," she said. "It's always good to have an opportunity to reach out in to the community with events like this and the money raised helps us to fund little things that make a big difference to our clients, such as decorating a room or buying a smart outfit for a job interview."
Come and Support Us!
We are fundraising in the Touchwood shopping centre in Solihull on Sunday 9th December and we'll be getting into the festive spirit with some carol singing between 1pm and 3pm. The singing will be led by Sound Foundation Voices, a community singing group which counts one of our Board directors among its members. There will be plenty of opportunity for audience participation, so if you fancy belting out a few old favorites, or listening to some seasonal songs to get you into the mood for Christmas, do come along.
BUBBLE AND SQUEAK!
On the 19th October two new additions to the Welcome garden arrived. Two small Bantam chickens were introduced. This would not have been possible without the help of the Social Action project carried out by members of the conservative party the week before the Conservative party conference in Birmingham.Working on site with some staff and service users they were able to construct the hen house in just two days.
Colin Bartlett SIAS service User representative had the job of pulling out suggested names from a jar on which resulted in them being called Bubble and Squeak. The girls are settling in well.
Solihull together sponsored walk
On 30th September staff and service users from Welcome took part in the Solihull together sponsored walk. The money raised by this event organised by SUSTAIN, will go to local charities in the borough. Joanne Mackinnon CEO said it was a wonderful day with beautiful scenery and a great atmosphere, It is the third walk I have done and I will definitely take part again next year.
Welcome Charity Shop Opens in Shard End
A series of four exciting fashion shows marked the launch of the first ever Welcome Charity Shop in Shard End on Saturday 1st September.
Councillor Marje Bridle, representing the Shard End Ward, cut the ribbon at the shop before joining locals to watch the shows, featuring Welcome clients, staff and volunteers as models.
The lively catwalk, expert commentary, and stunning outfits selected by the models themselves from the shop made for an entertaining day - and proved how easy it is to dress well for less.
Joanne Mackinnon, Chief Executive of Welcome said: "We have been overwhelmed by the response to our call for donated goods. The shop looks amazing and has a wide range of items for sale from toys and bric a brac to books and clothes. The quality of the goods people are recycling is fantastic."
We are still looking for volunteers and donations for the shop. For more information see our Charity Shop page.
SIAS Family Representative Shortlisted for Royal College of Psychiatry Award
The Welcome team is delighted that the SIAS Family Representative has been shortlisted in the 'Carer Contributor of the Year' category of the Royal College of Psychiatry Awards 2012. Winners will be announced at the Awards ceremony in November.
Welcome Launches New Service
Welcome has launched a Daycare and Detoxification service, which means the following courses are now available:
STAYING STOPPED
Tuesdays 1.30pm – 3.30pm (Alcohol only)
6 weeks in duration
Suitable for clients who are abstaining, or trying to maintain abstinence
Teaches skills around relapse prevention
Clients need to have been alcohol free for a minimum of 48 hours prior to attending the group
CANNABIS & YOU
Wednesdays 2.00pm – 3.30pm
6 week course
Suitable for clients who would like to understand the effects of cannabis and learn new skills to help them reduce usage, or work towards abstinence
Latest Dates for Family and Friends Information Programme Published

Recognising the impact that problematic drug or alcohol use has on families and friends, Welcome runs a programme to help them understand and cope with their situation. Here are the dates for the latest information sessions:
Session 1 – Understanding My Situation Thursday 12th July 2012 7.30pm – 9.00pm
Session 2 – Drug and Alcohol Awareness Thursday 9th August 2012 7.30pm – 9.00pm
Session 3 – Understanding Addiction Thursday 13th September 2012 7.30pm – 9.00pm
Session 4 – Exploring Coping Strategies Thursday 11th October 2012 7.30pm – 9.00pm
Session 5 – Learning to Accept What You Cannot Change Thursday 15th November 2012 7.30pm – 9.00pm
Session 6 – Supporting my Loved One Through a Treatment Programme Thursday 13th December 2012 7.30pm – 9.00pm
If you would like further information on the programme, or wish to book on to one of the sessions, please contact Bernie Oldbury or Lauren Lovatt on 0121 678 4730.
Donations and Volunteers Needed for New Welcome Charity Shop!
Welcome is pleased to be a part of the urban village development in Shard End. We are planning to open a charity shop opposite the new library - and are looking for donated goods and volunteers to help us get started. If you are interested, we have more details on our Charity Shop page.
Welcome Receives £1,000 Donation
The Barston Association elects to give a donation of £1,000 to Welcome. Collecting the cheque at the Association's AGM and thanking members for their generosity, Chief Executive of Welcome Jo Mackinnon says: "This will enable us to offer important additional support to clients and their families."
2011
SIAS Partnership Up for Guardian Public Services Award
SIAS partner the Birmingham & Solihull Mental Health NHS Foundation Trust entered the Guardian Public Services Awards 2011 and has been shortlisted in the 'Innovation and Progress: Partnership Working' category.
The Awards, which have been running for eight years, set out to showcase innovation and best practice in the public sector. In the Innovation and Progress: Partnership Working category, the judges were looking for 'truly integrated planning, commissioning and delivery of services' and evidence of 'how collaboration is improving outcomes'.
The SIAS partners will be attending the awards ceremony in London on 22nd November, hoping to hear the Birmingham & Solihull Mental Health NHS Foundation Trust announced among this year's winners.
1,000 Bulbs Planted for Local Community
On 21st October Jo Mackinnon, Chief Executive of Welcome, and six other volunteers from Welcome take part in one of Solihull Council's Environmental Champion projects.
Alongside three other volunteers from the community they plant 1,000 bulbs for the Spring of 2012 in a raised bed next to Woodbrooke House, a warden-controlled block in Chelmsley Wood for the over 55s.
SIAS Survey - what do service users think?
Welcome is involved in an interesting survey, on site at Middlewood House, as part of its partnership work with the Birmingham and Solihull Mental Health NHS Foundation Trust.
On 19th September, a pilot scheme inviting real-time feedback from service users, their families and friends was launched. A kiosk and special hand-held electronic devices have been installed in the SIAS reception area to allow them to answer a quick, easy, survey. Their views are fed through almost immediately on to a large screen for all visitors to see.
SIAS was the only recovery service chosen for the pilot. If it is a success, it will be rolled out across the whole of the Trust enabling Welcome to continue to use the system.
Buskers Raise Money for Welcome
On a gloriously sunny day in August local singing group Kiss The Ceiling Acappella Singers entertains passers by in Kings Heath and Birmingham City Centre with their repertoire of songs in four part harmony from around the world.
They donate the money raised to Welcome to help supply meals through its Drop-in Centre.
ADFAM Roadshow
In June, Welcome and its SIAS partners run road shows supported by the national organisation ADFAM, which supports the families of people with problematic drug or alcohol use.
The aim of these events is to promote SIAS' family and friends support service. Staff and users of the service are on hand to chat and give advice and information.
The events are a great success, with many members of the public being reached and a numbher of referrals in to the service as a result.
Launch of New Alcohol Service
More than 100 people turn out for the launch of the new alcohol service at Solihull library in May. The Lord Mayor opens proceedings and speakers includ Stephen Mundi from the Department of Health, Paul Mctague area manager from Aquarius, and Alex Coppello Professor of Addiction Research School of Psychology at the University of Birmingham.
Agencies in attendance include the police, magistrates, social workers, teachers, probation officers and GPs.
Collection Day in Shirley
Welcome's first street collection day is organised by Board member Henry Jerwood in April and takes place along Shirley High Street.
Over £100 is raised and used to buy plants for Welcome's working garden and the hanging baskets outside Middlewood House.
2010
Launch of New SIAS Reception
The Lord Mayor of Solihull formally opens the new SIAS reception at Middlewood House, to be shared by clients visiting Welcome or The Bridge Clinic.
Cash to Support Recovery Centre
Welcome, in partnership with SIAS (Solihull Intergrated Addiction Service), is awarded £178K to develop a Recovery Centre, where those leaving treatment can still access low level advice and information, group support, volunteer and employment opportunities.
This exciting new project will be in development throughout 2011.
2009
Sponsored Walk
Welcome and colleagues from SIAS partner organisations take part in the first 'Solihull Together' sponsored walk. Organised by SUSTAIN, the walk allows local charities in Solihull to fundraise for themselves and others.
The Welcome team decided to raise the money for Helping Hands, a smaller charity which often gives food parcels to Welcome clients.
Funds Secured to Build New SIAS Reception
Welcome, in partnership with SIAS (Solihull Integrated Addiction Service), is granted 150K to build a new reception area for clients at Middlewood House.
The National Treatment Agency had advertised for expressions of interest in Capital Grants for improvements and adaptations to buildings. Welcome, sharing a building with an NHS partner - the Bridge, submitted a successful application.
International Rememberance Day
The Solihull User Group marks International Remembrance Day in July 2009 by planting an apple tree in the garden at Welcome. International Remembrance Day exists to remember all those who have died as a result of drugs.
They do not have to have been drug users, but may have lived in countries where there is a death penalty for the possession of drugs. In Solihull, users were encouraged to remember people by tying a note into the branches of the tree.
Improved Garden for the Elderly
Working in partnership with Solihull Community Housing, Welcome spends £2K from the Birmingham Airport Fund on improving a garden for elderly residents of a tower block situated next to its premises in Chelmsley Wood.
2008
Donation from SITA UK
Welcome receives a 10K donation from SITA UK, recycling and resource management company, as part of its Corporate Social Responsibility programme.
Half of the money is used to set up a rent deposit scheme, the other half to improve a working garden and purchase sports equipment.
2007
West Midlands Drug Worker of the Year
Bernie Oldbury, Welcome's family support worker funded through the Big Lottery, wins the National Treatment Agency's 'West Midlands Drugs Worker of The Year' award.
Bernie was presented with her plaque at a lunch in London on 12th December 2007 by the Home Office minister for Crime prevention Vernon Coaker.